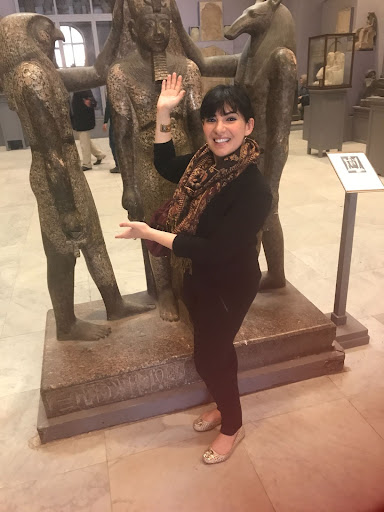 Just recently, Pine Crest School welcomed Mrs. Ilona Gerbakher to the Social Sciences department in the Upper School. Mrs. G teaches AP World History and has a passion for enlightening students on topics that they may have not learned about prior to her course.
Mrs. G is part of a family of first-generation immigrants from the Soviet Union. She became the first woman in her family to receive a college education. Mrs. G initially disliked the concept of school, "I did not have a fun time in high school. I was a stereotypical bad kid, who didn't do my homework."
Not only was high school something that Mrs. G dreaded, but she also underwent an unpleasant experience that surprisingly resulted in shaping her career path. Her second day of school was on September 11th, 2001. After this day, she realized how much of an interest she had in the Middle Eastern culture, language, and people. She became extremely interested in the Middle East and its relationships with the rest of the world.
Learning how to manage several jobs with the pressure of attending college was no easy accomplishment, but Mrs. G worked hard and earned a full-ride scholarship to the University of California, Los Angeles (UCLA). After studying history mainly focused on the Middle East, she received a presidential scholarship to Harvard University and obtained a master's degree in Islamic Theology. With a burning desire to learn more, she also attended Columbia and Princeton for a PhD in Islamic Studies.
Following her adventures in Morocco, Qatar, Jordan, Egypt, and other Middle Eastern countries, Mrs. G's passion for learning brought her to a newfound desire for educating others.  She says, "Over the years, I've realized that I really want to teach rather than research."
Moving to Pine Crest has been a comfortable transition for Mrs. G. She says, "I am astonished at the quality of my colleagues, and I am so impressed with the people I work with and teach." Mrs. G is an accomplished, knowledgeable, and inspiring teacher every student looks forward to seeing both in and out of the classroom. The addition of Mrs. G onto the Pine Crest campus has allowed for a new and diverse set of knowledge to the history classes offered at school.