What's New for 2022 Fashion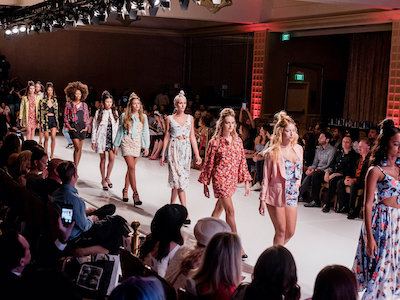 The New Year marks a time of celebration, reflection, and an evolution of new fashion trends. Popular culture and the fashion industry heavily influence trends for the upcoming year. New clothing trends become more popular as old trends cycle out of style. Many fashion bloggers and designers come together at the end of each year to discuss trends for the upcoming year.
This year, warm textures, sunshine colors, and the revival of Y2K fashion are making an appearance. Y2K fashion includes bright-colored crop shirts with straight-legged jeans or colorful dresses with funky designs. Zara, Urban Outfitters, and Forever 21 are showcasing Y2K, which refers to 2000 style clothing, in their stores.
After years of enduring the Covid-19 pandemic, designers want 2022 fashion to be colorful to represent happiness despite hardships. Color theorists claim bright colors brighten your mood, and companies like Moschino, Christopher John Rogers, and Tory Burch are bringing color to their accessories. Bright colors in 2022 fashion are incorporated in handbags, shoes, and hats.
We will also be seeing fur, fuzz, and tweed textures in 2022 fashion. These textures represent an alternative to the hoodies' soft texture. This year's style encourages people to wear clothing with tweed, such as a tweed jacket paired with a fuzzy hat. Styling an outfit up with a funky fuzzy hat with fur boots and a blazer is a perfect way to layer clothing while still being fashionable and trendy.
Men's fashion is also evolving in the new year. Instead of including multiple colors on their clothing, men's 2022 fashion highlights red. Red is bold and goes with pretty much everything. Men should plan on replacing some of their neutrals in their wardrobes with red clothing items or accessories. Brands such as Etro and Bianca Saunders are taking a red-hot approach to 2022 fashion.
Additionally, men's 2022 fashion will focus on robe-styled jackets. These jackets will have a tie around the waist and a hemline that falls just beneath the knee. Luxury fashion companies, such as Louis Vuitton and Gucci, will make leather or fur versions of the jacket.
2022 fashion represents a transformation of style from more classy neutral-toned clothing to more colorful and bold options. Audiences around the world should look forward to seeing what 2022 has in store for the future.
Sources:
https://www.vogue.com/article/pre-fall-2022-trend-report
Y2K Fashion Guide – How To Dress Like Y2K + 16 Clothing Stores (2022)

https://www.vogue.fr/fashion/article/like-it-or-not-gaudy-y2k-style-is-roaring-back
https://www.whowhatwear.com/2022-fashion-trends-www-readers/slide3