There's No Place Like Home Base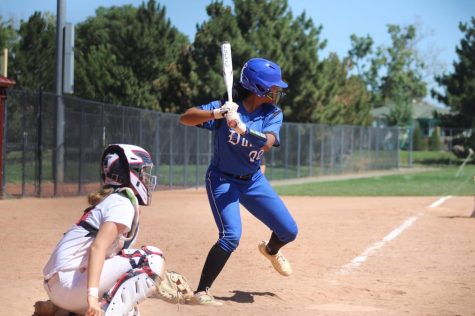 September 1, 12:01 a.m. : Three new messages. Some of the best universities in the country have flooded the inbox of one special softball player. September first of junior year means college recruits can begin to contact players. For Alicia Marzouca '24, this is the most exciting day of the year.
Marzouca began playing softball when she was just eight years old.
"My brother's best friend played softball and I saw her playing and I knew I wanted to as well," Marzouca said.
It might have been chance that brought the game to her, but it turned into something much bigger.
"She's the best player on the team and one of the best hitters we've ever had at Pine Crest," said Coach Mike Thompson.
Marzouca is a utility player, an extremely well-rounded athlete who is able to play in every position.
Not only is she an incredible player, Thompson says, "she sets an example for everybody else."
Marzouca's versatility on the field allows her to contribute to the team in more ways than one: not only is she talented, she is also a leader on the team. Her positive attitude and commitment to the sport make her so admirable. She strives to help each player on the team and said she "loves leading the team and helping out all the girls better their athletic careers."
The special team dynamic of the PC varsity team makes it easy for Marzouca to help and connect with the other girls. "We really have an amazing team dynamic and it encourages me to strive to better my own skills."
Marzouca has just two seasons left in her high school softball career and is excited to make the most of it. Her hard word and dedication to the game have afforded her many opportunities for the future. Though she has not committed yet, Marzouca has interest from coaches to play Division 1 softball in college and has already gone on multiple unofficial visits.
"It's exciting to talk to coaches and have interest from them, especially the Power Five schools and the Ivy League," Marzouca said.
Recruiting season has just begun and Marzouca is hoping to commit by the end of the 2022-2023 school year, if not by the end of 2022.
"I can't wait to keep playing and see where softball takes me," she said.
Though Marzouca isn't sure where her softball career will take her, it's sure to be a wild ride.