Beloved AP Social Sciences Teacher Trish Everett: Teaching with a Passion for Knowledge
For the past nine years, Pine Crest School has been lucky to have the immensely accomplished and astoundingly awesome Mrs. Trish Everett. A member of the Social Sciences Department in the Upper School, Mrs. Everett teaches AP U.S. Government and Politics, Post AP Political Science—with a competition element called "We the People"—Constitutional Law Honors, and AP Psychology.
Originally from Indianapolis, Mrs. Everett says she always knew she wanted to be a teacher. "I was always that kid who lined up her teddy bears and lectured to them," she said. 
High school was an integral time in shaping Mrs. Everett's career path. In her junior year, she was inspired by her longtime teachers and mentors, Mr. Burr and Mr. Phillipy, who taught a course that combined both History and English. She was so inspired by them that she joined the class again the following year to volunteer as an assistant. In addition to her volunteer work, she participated in a cadet teacher program where she helped create lesson plans and assisted in a second grade classroom twice a day.
In her senior year, Mrs. Everett took a government class and fell in love with the subject matter and competed for the first time in the We the People simulated congressional hearing competition. 
After taking the class and competing, Mrs. Everett knew she wanted to teach government, and today she continues to engage with the We the People competition as a coach to her students. Taking her involvement further, for four years she has served as the Florida District Coordinator for the Center for Civic Education, the public policy curricular program that oversees the We the People competition, and this year was selected as a 2023 National Finals Consultant and Judge.
After high school, Mrs. Everett earned her Bachelor of Arts with Honors in Writing from Ball State University, with a major in Social Studies Secondary Education and a minor in German. She was awarded a James Madison Graduate Fellowship scholarship that funded her Master of Arts in American History and Government at Ashland University. Mrs. Everett is a life-long learner and participates often in professional development opportunities. She serves on several advisory boards and routinely attends civics and government conferences.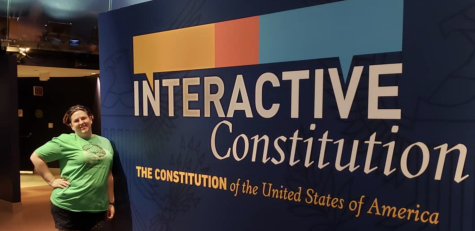 Mrs. Everett is also a National Constitution Center Constitution 101 Fellow. The Constitutional Fellows Program is a year-long academic commitment with the National Constitution Center to engage in professional development, focus group feedback, and activity design. Mrs. Everett joined the inaugural Fellowship cohort and assisted the National Constitution Center in the development and implementation of an online course titled "Constitution 101."
She also serves on the Retro Report Council of Educators, which develops resources and strategies to boost civic engagement in the classroom, and the National Constitution Center Teacher Advisory Board, which supports the Center's Education Team in development and evaluation of the materials on the Interactive Constitution: Classroom Edition, as well as presenting content created to support students using the National Constitution Center's free, online Interactive Constitution. She also works within the Library of Congress and iCivics "Our Purpose" series cohort, and the iCivics Educator Network, a select group of 150 educators from 40 states who collaborate to beta test new games, offer content feedback, and use social media to bring fun, approachable resources to a wide audience of students. 

Not only does Mrs. Everett teach her own students, review materials for students across the country, but she also presents to educators at national conferences, including the Florida Council for Social Studies (FCSS), the National Council for Social Studies (NCSS), and the AP Annual Conference. Mrs. Everett said that she is "A very firm believer that if you are the smartest person in a room, you are in the wrong room." She continued saying, "Anywhere I go I want to pick up life lessons. Getting the chance to be in a room with other smart people and share ideas is something I love. I am always excited to bring new ideas into the classroom." 
Her passion to learn is constantly displayed by the excitement she shows to her students, including the fun fact tidbits she shares with them. Student Danielle Keyes '24 admires how, "Mrs. Everett has the ability to answer any question posed to her," which is without a doubt in part due to her dedicated and inquisitive nature.
Knowing that Mrs. Everett could teach anywhere, she said that she loves being at Pine Crest School. "I think the culture among the students makes it pleasant to be here," she said. "I teach electives, so students not only want to be in the class, but are genuinely curious about the information and want to dig into it. It's cool to be smart here, and those are my people."
"As a teacher, Pine Crest takes really good care of us, but what is most meaningful is the trust and the autonomy that administrators allow me in my classroom. [School President] Dr. Dana Markham '18H says it is okay to try things and fail. [Head of Upper School] Mr. Joseph Walters '95 is so patient with my wacky ideas! The school hires talented people and allows them to do the things they were hired for. Teaching government, specifically in the last decade, has been like tap dancing through a minefield, but because of the professional development I do, and my own personal philosophy, I have been able to not shy away from hard conversations because the administration trusts that I will handle it in a way that students can express their views and be respectful and respected. Feeling trusted and treated like a professional is a rarity and they genuinely do trust us here."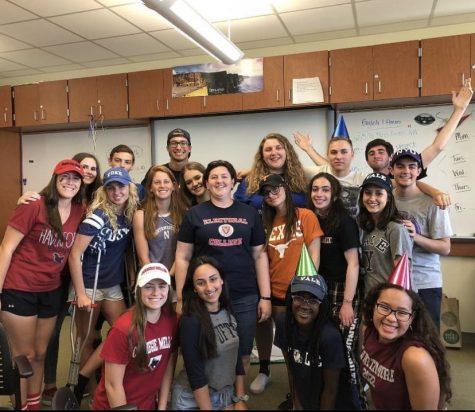 In the classroom, Mrs. Everett's love and passion for teaching shine. Decorating her walls with posters and colorful decorations, she creates a comfortable classroom environment where students can learn through rewriting the lyrics to a "Hamilton" song and making neurons out of pipe cleaners.
"I feel very strongly that it is not my job to try to shape my students in a particular way," she said. "My proudest moments are when I see students find what they are passionate about, or do something they never thought of doing. One of the things that surprises me and impresses me are the talents that I didn't know students had. They have so many skill sets and that is why I like project formats—students can spit bars when I ask them to rewrite lyrics to a "Hamilton" song. I allow students to have choice and ownership in the ways they demonstrate understanding and I get to see talents I wouldn't have known to ask for."
Mrs. Everett is loved by all her students and colleagues, being a go-to snack provider for her colleagues and a Wintergreen Lifesaver Mint provider for her students. She is known for her exciting project formats, classroom liveliness, and genuine care for her students' learning and well-being. Mrs. Everett is a teacher who positively impacts the lives of her students each and every day, allowing them to discover their potential and to utilize their talents while learning.