Pine Crest's Boys Basketball Finish Historic Season With State Title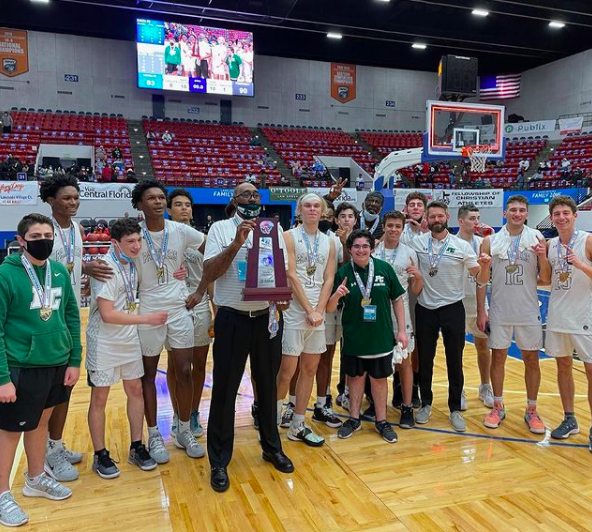 The Pine Crest Varsity Basketball Boys team just finished one of the most illustrious seasons in school history, ending with a historic 21-1 record. This season, the boys went on an impressive 18 game winning streak, the last win of which was in the FHSAA 4A Boys State Final, where PC beat Santa Fe 90-83 in a nail-biting last match.
It took a lot of hard, laborious work to even reach the final. The boys had to win districts before winning 5 straight games in the regional and state tournaments against the best teams in the state, a daunting task for any team, but the Pine Crest boys took on the challenge. Through hard work and perseverance, they brought another state title to our halls.
Paw Print spoke to some of the players who helped make this happen. PC Varsity Basketball Player, Luke Fatovic '21, had the following to say about the game: "The hard work put in leading up to the championship is what ultimately allowed us to pull through in that game."
Fatovic told us his coaches helped to unite the team as one, which was crucial to be able to chase the state title.
"Coach Ike, Coach Essie, and Coach Bart made us believe that we are a family, a unit, a group of 'young men' (as Ike would always call us) who had one collective goal: to win that game. I owe this experience to my teammates, my brothers who made this all possible," said Fatovic.
Paw Print also spoke to underclassman Jacob Pion '23 to get his perspective on the final match. Pion told us that though he didn't get to play in the state final, it was one of the best experiences of his life.
"We put in the work. We studied film, [practiced on the court], knew player personnel, and studied the concept of shifting between players in the zone, but at the end of the game it came down to who wanted it more," Pion '23 said. "We had a 1% chance of winning at the end; we were down 8 points with 40 seconds to play, but we wanted it more and we took the [win]."
Pion said he'd never been as tense as he felt at the end of that state final. With Pine Crest being down 8 points as well as having lost a key player, Ausar Thompson '22, due to an ejection, the game seemed like a lost cause until Amen Thompson '22 heroically scored 8 points in 43 seconds to tie the game. The game was then brought to double overtime, where the team's collective effort led to their ultimate victory.
"After winning the game, I got very emotional", said varsity basketball player Eros Carpio '21. "It was the first time I've cried in years. I also had a close relationship with the head coach, Coach Ike, since the 5th grade, and winning it alongside him in his first year as head coach was special."
Paw Print congratulates the Pine Crest Varsity Boys Basketball team for their incredible season and ultimately their state final victory.
Sources:
https://www.maxpreps.com/high-schools/pine-crest-panthers-(fort-lauderdale,fl)/basketball/home.htm