Athlete Highlight – Mrs. Strong
Few students know about Pine Crest's very own star water polo athlete: AP Literature and Post-AP Mythology teacher Mrs. Strong. As a high school sophomore, Mrs. Strong joined a water polo team, and found passion in the sport.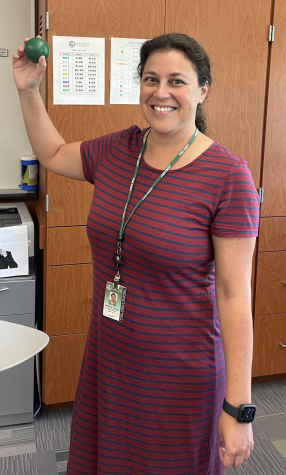 "I was always a swimmer, and I was very uncoordinated, so I wasn't good at soccer or basketball," Mrs. Strong told Paw Print about her start in the sport. But thanks to her introduction to water polo, she was now able to continue swimming, while having the camaraderie that a team sport such as water polo provides.
For those unfamiliar, water polo is a seven on seven game, with a goalie and six field players on each side. Field players must pass, catch, and shoot with only one hand, while goalies can use both. Games consist of four quarters – typically 15 minutes each – and a 30 second shot clock per possession. The pool must be at least 25 yards long, 20 yards wide, and seven feet deep, and players can not hang on the wall or touch the bottom of the pool. The goal is the same as in many sports: score goals while preventing your opponent from doing the same.
Walking on to the team at Harvard, Mrs. Strong played Division One water polo all four years in college. When asked about her greatest memory in water polo, she humbly said, "I was never really that great of a player, and I think I learned more about the sport from coaching it."
Paw Print asked Mrs. Strong more about her coaching experience. "I was able to coach a lot of girls who've never played before, and then taught them about the sport to the point where they could enjoy it and play in college."
Mrs. Strong has just started to play again, now with a local club team in Pompano Beach. Paw Print wishes Mrs. Strong the best of luck in her new season.