Music Production Today: A Golden Age in Creativity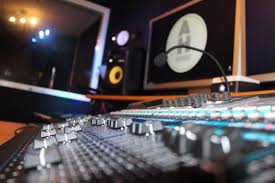 Historically, it has been challenging for an artist to create music and grow an audience without the assistance of a record label. Luckily, the advent of the Internet and related digital innovations have made it significantly easier to release music for the public to hear. The Paw Print sat down with Johnny Ricotta '22, better known by his alias "Rico," to discuss how these accessible technologies have allowed him to grow an online audience of listeners.
Computer-based programs called digital audio workstations (DAWs), such as ProTools, Garageband and Ableton Live, have simplified the process of music production. In particular, Apple's free software, Garageband, has truly made music production accessible to anyone. The program includes powerful technologies such as MIDI instruments, which allow the user to use their own computer keyboard to simulate a wide variety of instruments. 
When asked about how Ricotta started out creating music, he said, "I used the most simple setup you could find. Garageband and a $50 Blue Snowball microphone. We all have to start somewhere."
This technology is not only reserved for underground artists who do not create music in a studio. The creation of music in a more homey environment has also become popular among more mainstream artists. In fact, Billie Eilish's Grammy-nominated album, When We All Fall Asleep, Where Do We Go?, was entirely created and produced in her brother's bedroom. 
In a recent interview her brother stated, "I think she [Billie] recorded pretty much every vocal of the entire album sitting on my bed…which is kind of insane."
In addition to music production becoming much cheaper and simpler, sharing and spreading music has never been easier. In the past, music had to be distributed by large record companies like Universal Music Group, Columbia Records, and Warner Music Group, which was near impossible to do without an agent. It was a costly endeavor that alienated the majority of new music writers. However, free online sharing platforms such as SoundCloud and YouTube have taken the headache out of distributing music, as millions of users use the services daily. In fact, SoundCloud and other similar music industry companies have opened the door to fame for many artists such as XXXTentacion, Lil Pump and Lil Nas X, changing the prior need for a record label to become an acclaimed artist.
Ricotta started off distributing his music on SoundCloud and YouTube, but he now utilizes an online distribution service to release his music on more platforms, namely Spotify and Apple Music. While this service is not free, it charges a modest annual price of $19.99. 
Ricotta explained, "I previously used a service called TuneCore, which would charge $10.00 per single and $30.00 per album. It was such a great deal. Now I use DistroKid, which works better for me since I create much more music than before."
Interacting and collaborating with other artists is a much more attainable process in the digital age. Through social media exposure or online forums dedicated to songwriting, collaborations can be arranged in mere minutes.
Ricotta said, "I started to find many of my collaborators like Kid Rohan through forums such as Smart Rapper or Instagram. Through these resources, I can network with other artists and producers, and I can get feedback on tracks I'm working on."
While the music industry still holds record labels in high esteem, technological advancements are starting to level the playing field for any songwriter to make their mark on the world.
Sources: Grammy Awards, Youtube, Distrokid
Photo Source: Wikimedia Commons