Homecoming: Tuesday, Day 2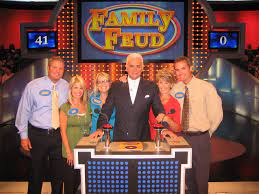 On Tuesday, October 18, Pine Crest hosted various games including Family Feud! The day started with an advisory aimed to make each classroom door more fun. Students collaborated to make the best door design possible. At the end of this challenge, Mr. Greenhut won first, then Ms. Sarasua and Ms. Dailey took third!
That afternoon, the student council hosted an Upper School game of Family Feud in Stacy Auditorium. Steering committee heads, Jayden Engelhart and Ava Malkin, and Student Council President, Christian Geter, introduced this event together.
Greer Udelson performed "All I Ask" by Adele to kick off the gameshow and preview Playing for Change. From there, juniors and seniors started off the activity. Seniors took a quick lead and ultimately won every round. Before the showoff between freshman and sophomores, the upper school broke out into song for a Lip Sync Battle. Sophomores Micah Taubman and Jahsiah Bowie sang "I Will Survive." Unfortunately, it did not go over well with the judges. They scored 6.5, 7, and 5 for an average score of 6.2.
Juniors then took the stage with Taylor Swift's "You Belong With Me." Their representatives danced to gain scores of 7.5, 7.5, and an all-time low of 0.
To heighten crowd spirits, seniors danced to "Can't Touch This." Their first attempt didn't impress the judges, so they were given a second chance to wow them, and succeeded with an average of 8 points. This was the highest score of the afternoon. With Family Feud as the main event on Tuesday and various activities throughout the week (take a look at the other Homecoming Highlights!), students couldn't wait for Friday's White Out Football Game and get dressed up for the Homecoming dance.