Just an hour away from Pine Crest School's Fort Lauderdale campus, Nina Johnson's contemporary art gallery is located in Miami, a hive of contemporary art. Nina Johnson, who was born in Miami, has been cultivating the city's contemporary art community since 2007, when she opened the doors of her gallery. Johnson's exhibits are designed to inspire conversations around current issues and to emphasize craftsmanship. Her gallery is more relevant than ever. She does not focus on a specific medium, but rather explores the work of artists who experiment with ceramics, collages, sculptures, textiles, paintings, and even basket weaving. I had the pleasure of interviewing Ms. Johnson, and we discussed her experience as an artist and gallerist and the evolution of the contemporary art scene in Miami.
Johnson grew up interested in art. Her passion for art grew in high school, which didn't go unnoticed. She was encouraged by a family friend to do an internship to learn more about the art world, specifically the business side of the art world. She started working in a gallery at age 15.
During her high school years, Johnson was primarily inspired by the women in her family, many of whom are entrepreneurs and business owners. Her mom was very supportive of Johnson's love of art, even though it was unfamiliar to her. Johnson looked up to her aunt, an artist who loves to travel. Her aunt encouraged her artistic pursuits and introduced her to a variety of artists who inspired her to create.
After she finished school, Johnson came back home to Miami to open a gallery. She did this for the simple reason that no gallery that she knew of in the city was showing artists she wanted to see. She saw a lot of opportunity for growth in the Miami art community, so she decided to open her own space.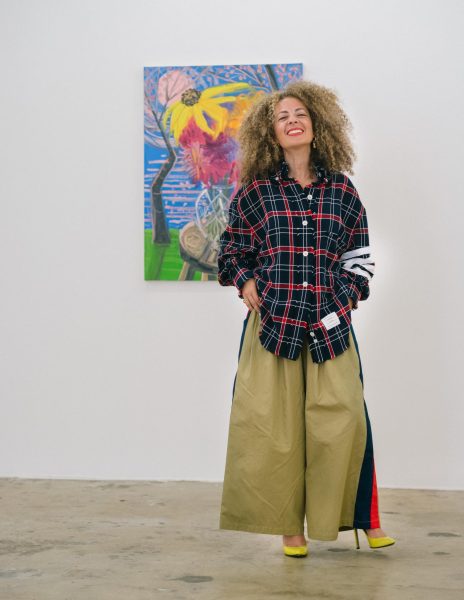 When choosing an artist to display in her gallery, she asks the questions,
"Is what they're doing in dialogue with the other artists that we're showing? Are they adding something to that conversation? Are they taking that conversation in a direction that it hasn't been taken before?"
A solo exhibit, "Maybe the sun is tired too," which took place at The Nina Johnson Gallery in April of this year, featured the ceramicist Anders Ruhwald. Ruhwald's exhibition opens a conversation about climate change, as well as explores growth and decay and gravity.
"He's taking something that, for a lot of us, is a collective anxiety and concern and turning it into these really beautiful, thoughtful pieces."
Johnson explained,
"His work plays with design; it plays with craft, but I think he's really pushing those beams into spaces where they haven't been taken before." Ruhwald utilizes shape, color, and scale in a revolutionary way.
Johnson believes it is a priority that her gallery is rooted in its community. Although she doesn't exclusively work with artists from Miami, she is always on the lookout to see who is doing good work there. She explained that the important part is bringing in artists who are relevant to the artistic dialogue within the community.
Her gallery space changes dramatically from show to show, as she explores artists with very different styles and media, which makes each exhibition feel new and unique.
Johnson has worked with artist Nicole Wittenburg on multiple exhibitions in her gallery. Johnson said,
"I am really drawn to the sense of movement she is able to achieve in her paintings. I think, regardless of the subject matter, you feel a lot of the gesture of her brush stroke. I think you can feel a lot of the action of the work she's doing and that excitement, that sense of energy and movement is part of what's really kept me coming back to her practice."
The gallery continues to grow and become more ambitious in the best way possible. She was excited to be working with artist Dee Clements who explores basketry in a solo exhibition this past July called "The Future has an Ancient Heart." Clements focuses her collection of vibrant woven basket creations on craft and on ethnography.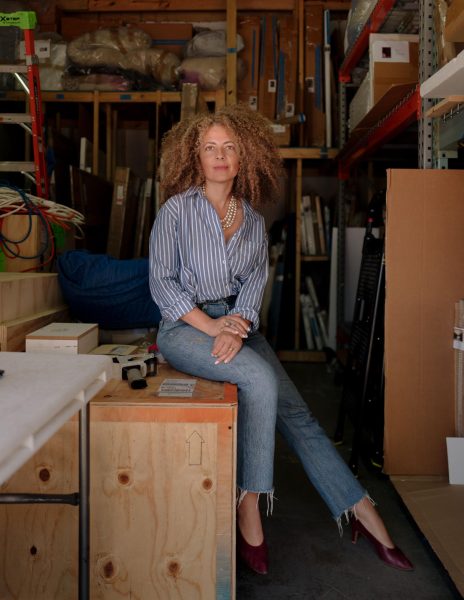 Her advice for young artists:
"Look at a lot of work. I think it's really important when you're starting out to be aware of the artists that have come before you and just be really cognizant of what type of conversation you want to be part of."
Johnson's contemporary art gallery leaves its viewers and visitors with a different perspective and recognition of the world around them through another's eyes.
Sources:
Photos by Gesi Schilling