Hurricane Ian's Destruction-Is Humanity More Good-natured Than Some People Think it Is?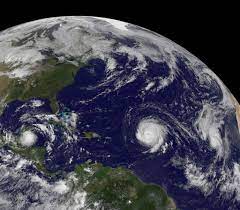 On Wednesday, September 28, Hurricane Ian made landfall in Florida. While most of South Florida was spared, Naples, Fort Myers, Sarasota, and the surrounding areas were not so lucky.
Winds reached 130 mph, devastating homes and animal habitats. After the causeway to Sanibel Island collapsed, hundreds were stranded, trapped inside their quickly-flooding homes. The only problem? Alligators and snakes roamed the streets-now more akin to a river-and now staying inside the home was dangerous. On top of that, there were other troubles: sewer systems had nowhere to pump the waste, so clean drinking water became a luxury. It was confirmed that more than 100 people had died, though rescuers may find more as they continue their searches.
Although it seemed that all hope was lost for the citizens of the southwest Florida coast, teams of helpers were working to bring the stranded people to safety. Red Cross was one of many organizations that was working closely with the victims. The volunteers provided food, rescue services, and shelters in an attempt to lessen the impact. Even fellow Floridians left their jobs for days to aid the victims in whatever ways they could.
Over the past decades, people have worried about the divides within our society. However, when catastrophe hits, it does not matter what race you are, what gender you are, nor what political party you support. All that counts is your willingness to help someone less fortunate than yourself.
"We [were] thankful for the states that ha[d] sent us [Florida] resources and we [were] very very appreciative of them stepping up and helping Florida," said Governor Ron DeSantis. Though we all may lead different lives based on different perspectives and beliefs, in the end, humanity always bands together for the common good.
If you would like to know how to help, visit the Red Cross website.
Sources:
ABC News