Love/Sick Play
On March 30 and April 1, the play Love/Sick, by John Cariani, was performed in the PC chorus room at 7:00 pm. This play was put on and directed by none other than PC's very own Mrs. Ortega. Love/Sick deals with love and loss and all the difficulties that occur in relationships, while keeping a comedic touch. The play consisted of a series of vignettes that featured different struggles within relationships. It featured queer as well as straight couples, and took place in a "space time continuum." This play left everyone either smiling, crying, laughing, or all of those combined.
This play could not have happened without its amazing cast, and for many seniors, it was their final performance at Pine Crest School. The cast consisted of seniors Johnny Ricotta, Carys Edwards, Holden Goldberg, Matthew Prevor, Camila Agudelo, Piper Braden, Nina Firic, Sydney Friedman, Mary Beighley, and the underclassmen Miel Hemeon, Talia Mandel, and Margo Segal. Pine Crest looks forward to seeing what these students accomplish in the future whether it is outside or on the PC stage.
This play became so much more with the addition of custom composed music, by Jeremy Berkun. The play also had a sustainable theme, guided by Thalia Ferro, who assisted with costume design. The cast utilized clothes from their own closets as much as possible, and Thalia thrifted a wedding dress for the scene "The Answer". Camila Agudelo drew and helped design a playbill for this project. The playbill features the entire cast with their role in the play and a bio about everyone involved. There are so many others to thank, including those who helped with lighting and tickets, and the play could not have happened without the help of Elyse Anderson, Adrienne Barry, and Larry Mellone.
Mrs. Ortega, the director of Love/Sick, told Paw Print, "After the success of Almost, Maine a few years ago, I wanted to return to the vignette structure to limit the number of students on stage at one time but at the same time, offer opportunities to many students to explore the physical, psychological and emotional ailments that love inspires—true acting grit. By the time we arrive at the last vignette, "Destiny," we have arrived at the lifecycle of a relationship from a chance meeting to the ravages of death and divorce.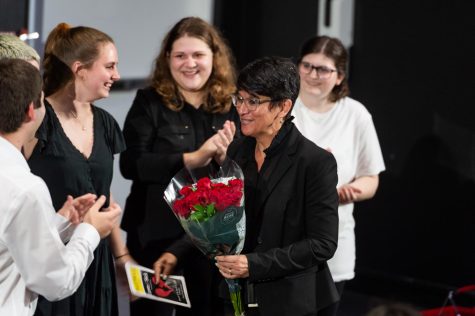 The message Mr.Cariani seems to be making about love is bleak—like everything purchased in a supercenter can be disposed of or replaced, as can love. Nonetheless, Cariani challenges us to examine love from many perspectives and, in Pine Crest's performance, we even get to see love through queer eyes in three of the vignettes.Cariani has given us the opportunity to see that love is love.
Love/Sick was such an amazing experience for everyone involved, and was such an amazing accomplishment that brought joy to so many people.