PC's New Track: Investing in Success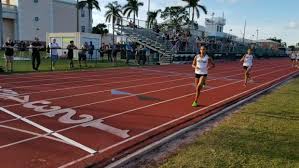 As track and field athletes finish their offseason training and head into the start of the season, they are looking forward to the unveiling of an impressive new track! As the PC track finishes its construction, many wonder what goes into building one of the most impressive tracks in the state.
Paw Print spoke to the head track and field coach, Paul Baur. He explained why the track needed replacement.
He said, "The previous surface was put down in 2005. It has been 15 years and it was showing its wear and tear. We wanted to make sure we would provide students with a top-notch facility. It'll be the best for athletes' health and safety especially due to lower leg injuries. It will definitely set us apart."
Coach Baur gave some insights into what went into the building of the new facility.
"The first group was called CSR construction; they did excavation and drainage and had about 10 people at work at all times. A crew redid the entire sprinkler system. There is now a surfacing company (Beynon) with 6-10 full-time workers surfacing the track."
Even with all of these crews and different specialized workers, designing the track proved a task as complex as its construction, Baur explained.
"I worked with Jeff Foster, the assistant athletic director. We spent hours and hours researching facilities, especially college facilities. My experience as a college athlete and [as a] coach helped; I have been involved in track and field as an athlete and coach for almost 30 years."
Baur is confident that the schools' planning along with his track and field expertise will create a stand-out facility for the student-athletes.
"We designed it to make sure the track would stand out. The color scheme for striping and exchange zones are unique. It's a very custom-built track. It will without a doubt be the best high school track in Florida and one of the best in the country."
Baur said his athletes are excited to be able to practice on a track again, once the construction is over.
"Adaptability and resilience are some of Pine Crest's strengths. We've been traveling to different parks to practice but everyone's excited to be able to practice on the track."
As for the impacts the track will have on the team, Baur explained that they will be great, especially relating to injury reduction and performance.
"…Reducing wear on the track will greatly improve. We also focused a lot on safety. Adding a safer discus cage, a cage for the shot put, adjusting the landing area for the shot put and a track runway for the javelin so our throwers wouldn't have to practice on grass, all of this will improve safety and reduce the risk for injury."
Paw Print also spoke to accomplished cross country and track athlete, Jaret Rozanski '23. The new track provides opportunities for athletes to safely try and experiment with a myriad of different events. Paw Print asked Rozanski what events he'd like to run and what he thought of the design overall.
"My heart will forever be with distance running and I cannot wait to run some long-distance events and workouts on the new track because it will be more intact and a lot better for running. I love the design of the new track… I like how the javelin and the shot-put are fenced off so that running events and throwing events can [occur] simultaneously without sacrificing safety. My favorite part of the track is that it will be green and grey instead of the traditional red color for a track because this shows Pine Crest colors and spirit."
The consensus on the track seems to be one of excitement and optimism. Although there will be no home meets this season, the Paw Print hopes the track will be a symbol of PC success and confidence for years to come!