The Impact of COVID-19 on Iconic Businesses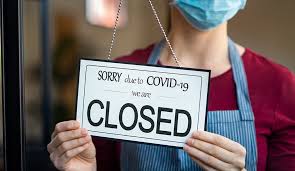 2020 has been a challenging year. With the coronavirus pandemic still continuing to disrupt personal lives and wreaking havoc on the U.S. economy, even America's most iconic retailers are fighting to survive. More than 3,600 companies filed for bankruptcy in the first half of 2020, and many famed retail, restaurant, and entertainment businesses have shuttered their doors permanently.
Fashion brands and retailers have especially been hit hard by the pandemic. The quarantine order in many states and the high unemployment rate resulted in reduced consumer demand. Many retailers were forced to either declare bankruptcy or close down entirely. The preppy brand company J. Crew filed for bankruptcy on May 4th and Neiman Marcus, the century-old high-end department store, filed for Chapter 11 on May 7th. Since then, Neiman Marcus has closed many of its locations throughout the United States. Other favorite brands such as Under Armour, which reported a loss of about $774 million in the first half of 2020, as well as H&M, Rag and Bone, and Urban Outfitters have all reported significant monetary losses due to the coronavirus pandemic.
Restaurants have also been drastically hurt by the unforeseeable challenges the pandemic has brought. Guidelines regulating the capacity limit in many states have made it impossible for restaurants to stay afloat. California Pizza Kitchen, popular with people of all ages, filed for Chapter 11 in July, hoping that this will allow them to keep operating until conditions improve enough to see a profit once again. Luckily, they have not yet had to close any of their restaurants. Friendly's, an old-time favorite, also filed for bankruptcy in November. Hopefully, their famous Jim Dandy will continue to stay around!
In the entertainment arena, the 600 plus restaurant chain Chuck E. Cheese, filled with arcade games and pizza, was hit hard when large gatherings and inside dining was regulated and eventually stopped altogether, causing their revenue to drop by 90%. It is a shame to see these childhood favorites struggle as a result of the pandemic. Additionally, movie theatres are in jeopardy as COVID-19 continues to surge around us. Many Americans are missing the luxury of sitting in a theatre with a big container of popcorn watching the new blockbuster movie released that month. AMC and Cinemark have both seen a significant drop in revenue. AMC stocks were down 66%, and Cinemark stocks have decreased by 74%. The postponement of films and the fear of catching COVID-19 at the theatres is further delaying the industry's recovery.
Even as the economy is slowly reopening, the social distancing guidelines and restaurant capacity rules, although necessary and extremely important to protect everyone's health, are still affecting restaurants and retail establishments and will also have a lasting impact for the foreseeable future, forcing several more establishments to close. In order to survive, retailers are going to have to adapt to the new normal. Maintaining safe and clean environments and creating online sites that are easy to navigate are a few of the areas that will attract consumers and maintain customer loyalty. Luckily, bankruptcy does not always mean that the end is near for some of our favorite companies; many use it as a chance to change their platform and will emerge as a new and improved business.
Sources:
https://wwd.com/fashion-news/fashion-scoops/coronavirus-impact-fashion-retail-bankruptcies-1203693347/
https://nymag.com/intelligencer/2020/08/major-companies-filing-for-bankruptcy-due-to-coronavirus.html
https://www.cnbc.com/2020/11/09/theater-chains-amc-and-cinemark-take-big-q3-losses-amid-covid-pandemic.html
https://www.nbcnews.com/business/consumer/which-major-retail-companies-have-filed-bankruptcy-coronavirus-pandemic-hit-n1207866