Top Five Sustainable Fashion Brands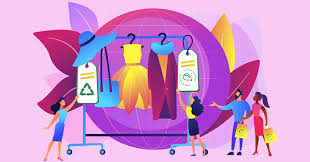 Did you know that one significant contributor to many people's environmental footprints are the clothes they buy? One t-shirt is made using 2,700 liters of water. One pair of jeans needs 1,800 liters of water. One pair of shoes needs 2,257 liters of water. It may not seem like it, but a major part of everyone's environmental footprint lies in their own closets. However, there is a way to fix this. There are many fashionable and sustainable clothing brands out there to shop from in the future! Here are the most recommended:
This Los Angeles brand is affordable, stylish, young, and has been featured on Vogue (vogue/reformation). It has everything from its extensive jean collection to numerous dresses and accessories. It has also been mentioned by the famous British YouTuber Zoella. Reformation also has a page on its website where people can see how much water, carbon, and waste buying their products would save versus buying products from other clothing brands.
Boden has been an extremely popular clothing brand in the United Kingdom for almost 30 years. Now, thankfully, it boasts worldwide service. It supports ethical practices, good sourcing, and fair trade all over the world. All of its factories are  eco-friendly as well. Boden, unlike Reformation, whose clothes are solely for women, has clothing for men and children too.
Most people already own some clothes from Patagonia! However, I bet they do not know that Patagonia is one of the first brands to only use organic cotton and recycled materials. Patagonia has defended environmental fashion from the very beginning. As most people know, this brand features lots of comfortable clothing including activewear, coats, and jackets.
Veja, a recently popular brand from France, features many different kinds of fashionable and classic sneakers. Veja believes in organic materials (cotton), fair trade sourcing, and transparency. Most importantly, it uses vegan leather for its sneakers, something that many shoe brands out there don't do.
Levi's, the iconic American jeans brand, is known across the world. Levi's have been famous for their jeans since 1853! This company supports sustainable practices like using recyclable denim and other ethically sourced materials (cotton). It also helps reduce the use of water while making their jeans.
For all those of you who are looking for a way to mitigate their environmental footprint, check these brands out. There are also many more brands with similar sustainable practices right here at thegoodtrade.com. Happy shopping!
Sources:
https://www.facebook.com/unitednations/posts/10000-litres-of-water-are-needed-to-make-a-single-pair-of-jeansby-shopping-secon/10157679840810820/
https://www.worldwildlife.org/stories/the-impact-of-a-cotton-t-shirt#:~:text=Amazingly%2C%20it%20can%20take%202%2C700,make%20a%20single%20t%2Dshirt.
https://www.facebook.com/unitednations/posts/10000-litres-of-water-are-needed-to-make-a-single-pair-of-jeansby-shopping-secon/10157679840810820/
https://project.veja-store.com/en/single/production/