New Changes at Pine Crest due to the Coronavirus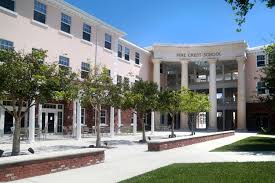 Since the school year started, there have been many new changes due to the coronavirus at Pine Crest School for an increase of safety for students, faculty, and staff. A couple of new changes include wearing masks, having student IDs, new PC sports guidelines, and the addition of plexiglass throughout the campus.
Wearing masks:
Masks have been a significant part of our daily lives since March, and this reality doesn't seem like it's going to change. At Pine Crest, masks are now worn during sports and throughout the school day. The only time students can take masks off is when they are eating and drinking. Although masks can be a pain, many students took advantage of this opportunity and now wear masks with different designs and patterns to brighten their outfits.
Student IDs:
Student IDs have also been a new addition to the Pine Crest uniforms. Every student has to wear their student ID at all times for safety purposes on campus. Although masks and ID badges may be annoying to put on every day, they work wonders in keeping our school community safe.
Sport changes:
As sports seasons are starting again, there have been multiple changes to practice schedules, games, and social distancing rules. For example, the school has decided to shorten many after school practices due to the coronavirus pandemic. In cheerleading, practices have been shortened to 4:15 to 5:15 pm and are only from Tuesday to Thursday afternoons. In football, there will only be one home game this season because of the new guidelines and social distancing rules. Each athlete should contact their coach specifically to learn the new guidelines and practice times for their sport.
Plexiglass:
The first thing students see every day when they walk into classrooms is plexiglass paneling surrounding each desk. This new method of protection helps keep students and teachers safe during indoor classes and provides a sense of safety to each person in our community. Plexiglass is also not only restricted to classrooms, it is also placed around many desks and sitting areas in the library, Student Union, and hallways between classrooms.
Overall, Pine Crest has had a very successful transition from virtual to in-person schooling. Even though the Pine Crest campus looks very different than it did in the past, Pine Crest has taken every possible measure and step to help keep our students, faculty, and staff safe from the coronavirus pandemic.