Student Spotlight: Taylor Metz and the Ambassadors Club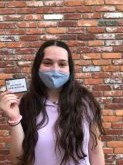 As students either return to campus or continue with virtual learning, adjusting may be particularly different for two groups of students: freshmen and new students, as the Upper School was unable to hold in-person orientations this summer as they normally would. Ambassadors Club is a group of students on campus who are aiming to help with this transition to a very unique school year.
Taylor Metz '22, one of two Ambassador Leaders for the junior class, said, "During the summer, we held a Zoom meeting with new students to talk to them about what to expect this school year. We also assigned a Panther Partner to each new student to help them get to know Pine Crest students and get better acquainted with the school. They each contact them, get to know them, and serve as a familiar face around an unfamiliar campus. On the first day of school, we set up stations to help direct new students and freshmen to their classes; we couldn't have a physical orientation, but we still wanted them to feel prepared to know where they were going."
In addition to making sure that new students have a designated Ambassador they can talk to and people who could direct them on their first day, the Ambassadors have also put together a way for more social interaction for many students who are continuing to learn online.
Taylor said, "We're also doing virtual lunches for students as a way for students to meet people and have the social part of school while still at home."
Although some Pine Crest students are at school and some are at home, everyone who is a part of the Pine Crest community has tried to make the start to a new school year go as smoothly as possible for new students and freshmen despite the unusual circumstances.
In Taylor's words, the Ambassadors' main goal is to "make beginning a new school year as easy as possible for people who haven't attended Pine Crest Upper School before, and we're lucky to have so many amazing and approachable students to help do that."
As it is still undetermined how long the pandemic will impact school, it is more important than ever to have a strong community to help students who have not previously been a part of the Upper School feel comfortable. Taylor and many others encourage Pine Crest students to make the most out of the unforeseen circumstances by using this as an opportunity to welcome new and returning students in new and unique ways.