Natalie Rubenstein and Clarissa Zisman in the Upper School Play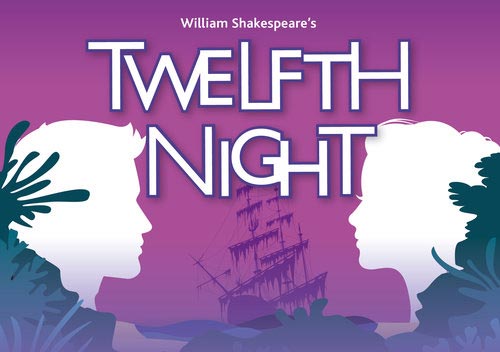 Pine Crest Upper School's annual play has finally arrived! This year Mrs. Ortega shared her love for Shakespeare to the rest of the high school as she directed Shakespeare's Twelfth Night or What you will, which centers around a brother and sister who are separated by a shipwreck. The play is filled with comedy and confusion as Viola, the sister must assume the identity of a man in order to make a living and swoon Lady Olivia over.  
This year, the production moved from its usual location on the Sacrifice Circle to the fountain outside the library. Senior Clarissa Zisman said, 
"The initial shift from the sacrifice circle to the front of the library was definitely scary because nobody knew how it was going to turn out." 
However, with much more space to perform, the cast was able to put on an elaborate performance. 
Senior Natalie Rubenstein, who plays Lady Olivia, has come to appreciate the difficulty in Shakespeare's text and the intricacy behind his language. 
Natalie said "The most complicated part about learning Shakespeare is understanding the language. If you don't understand the language yourself, there's no way the audience will understand your motivation or intention within your scene."
This cast began their rehearsals in late November and continued nearly every day after school from 4 -6 pm, including weekends. In the week leading up to the play, cast members stayed at school until 10:30pm in order to practice with how the lights would be for the actual showing.  With countless hours spent together rehearsing for the final performance, the cast has grown very close to each other. 
Natalie said, "It has been an incredibly long and complicated process, but I think I speak on behalf of everyone in the cast that we've enjoyed every minute of it." 
With a much smaller cast than in past years, the play brought many students together, especially the seniors. As Clarissa Zisman reflects on her final performance and impact as a senior she said, 
"Going from line readings in Ms. Ortega's room to a full costume production with lights and music all outside has been super rewarding! It's been super fun to help the underclassmen with their goals and worries in and outside the play." 
In an unusually chilly show weekend, Pine Crest students bundled up with blankets and hot chocolate to enjoy the wonderful performances by the talented cast on both Friday, February 28th and Saturday, February 29th. It was definitely a performance to remember!