The Slow Rush: Fan's Wait Eagerly for Kevin Parker's Next Move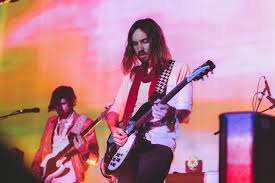 Tame Impala's highly anticipated fourth studio album, "The Slow Rush," is set to release on Valentine's Day, 2020. 
Tame Impala burst onto the music scene back in 2010 with their psychedelic LP Innerspeaker. Upon listening, it is hard to believe that Innerspeaker, alongside the group's other three albums, are entirely written, produced, and sung by one man: Kevin Parker. The incredibly rich and full sound of Tame Impala is a testament to the ingenuity of Parker and his unorthodox approach to music creation. This debut album was the world's first formal introduction to a band that would continue to define what it means to be a successful rock outfit in a musical landscape increasingly dominated by hip hop and watered-down pop acts.
The band doubled down on their new-age psychedelic sound in 2012 with Lonerism, Parker's ode to the comfort of being alone and the reflections one can have when they are in that peaceful state. This album expanded the band's audience even more, with commercial hits like "Feels Like We Only Go Backwards" and "Elephant," both typifying the project's trippy and mind-boggling sound. It explores themes including regret, simplicity, childhood, and relationships. Even though it is frequently compared to other 60's and 70's prog-rock albums, it distances itself through the use of modern technology. 
Then, in what many see as a great left turn for the band, Parker released his most successful and critically acclaimed album to date: Currents. If Lonerism was his introduction, Currents was his statement to the world. Every second of this LP showcases the brave new direction of the band. The glossy, rich, and most importantly, accessible "pop" sound allowed many a great launching point to explore his other work. Parker's combination of vintage recording techniques and state-of-the-art music production software gave listeners the best of both worlds: a familiar, nostalgic, and yet completely exotic sound.  While still retaining their roots through emphasis on psychedelics and experimental sounds, they achieved international success for hits like "Let It Happen" and "The Less I Know The Better." The latter is a song with an addicting baseline and a hypnotic disco beat. It arguably went platinum because of its use in many Tik Toks, a wildly popular social media site known for popularizing music and dance trends. Parker masterfully walked the line of making an album that sounded like nothing and yet everything he has made before.
It has been five years since the band's magnum opus, Currents, initially graced listeners. While actively touring, though, they have released three songs that will appear on the album: "It Might Be Time," "Lost In Yesterday," and "Posthumous Forgiveness." The last deals with feelings of time slipping away and there being nothing you can do about it. It's as if Parker breathed new life into LCD Soundsystem "Losing My Edge," a song that similarly explores feelings of helplessness and an inability to keep up with competition. Parker said in a Zane Lowe Interview, "I feel like I haven't done a song in a long time where the drums are the main feature." The drum that he finally landed on is a scratchy drum set that could fill a warehouse with its industrial sound. His perfectionist attitude towards his selection of sounds culminated into this final product, a drum loop with an infectious feel and its reverb cranked up to max. When it explodes on the chorus, it fills up the ears.  
Whether his fourth album will continue his trademark psychedelic sound, or maybe even bridge over into a more hip-hop sound, is still very unclear. What is known, though, is that Kevin Parker will do what he knows best: reinvent himself.