Dressed to Impress: Homecoming Edition
Homecoming week is finally here and students are so excited to show their panther spirit! For each day of homecoming, students have a different dress-down theme. Every year students are filled with excitement as it gets closer and closer to the treasured homecoming week. Senior Erin Wiegman explained that "being able to dress up during homecoming for the last time is a memory that I will always cherish." 
On the first spirit day, October 14, students were inspired by different Disney movies; The Parent Trap for freshmen, The Avengers for sophomores, Lilo and Stitch for juniors, and Monsters Inc. for seniors. In an effort to encourage the student body to get spirited and involved, the class with the best, most creative costumes earned spirit points. 
Inspired by The Parent Trap, freshmen dressed in camouflage, summer camp clothing, or outfits that "twinned," or matched, with a friend. While a wide variety of costumes were seen across campus, the most popular seemed to be camouflage gear. Many also twinned; one twin set that definitely stood out were two students wearing cow costumes! Freshmen enjoyed their first homecoming dress down day, and showed their Pine Crest spirit with their unique costumes.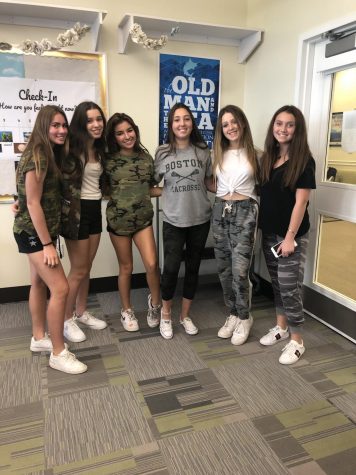 Sophomores dressed as superheroes, villains, and sidekicks. Some favorites were Spiderman, Batman, the Hulk, and Thor, among other avengers' characters. In addition to superhero shirts, some students even wore capes and accessories to make a statement. 
With the theme of Lilo and Stitch, Juniors dressed in Hawaiian-themed clothing. Around school, many juniors were seen sporting floral shirts, leis, hula skirts, and other beach gear. Juniors helped the student body envision Pine Crest on a Hawaiian island. 
For their last homecoming, seniors certainly dressed to impress, bringing the most spirit of any of the grades. Dressing up as mythical monsters after the movie Monsters Inc, they wore a variety of unique costumes, such as mermaids, fairies, and devils. Seniors went all out with their costumes, turning the campus into a magical realm of Pine Crest spirit.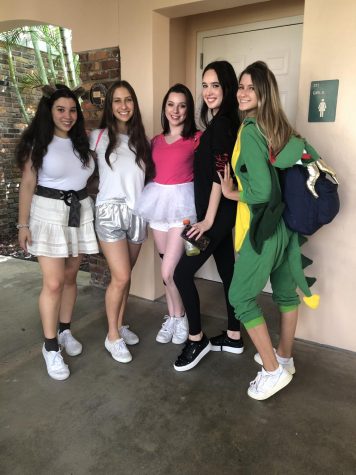 While Tuesday was the most creative dress-down day, Thursday and Friday were also spirit days. Students dressed in their class colors on Thursday; freshmen wore yellow, sophomores wore red, juniors wore blue, and seniors wore black and orange. On Friday, the final day of this spirited week, all students supported the Panthers by wearing Pine Crest's school colors, green and white. This homecoming week was a true success, as the students expressed their school spirit in anticipation for the Friday night football game.