The Rise of the Edible Cookie Dough Trend
"Do not consume raw cookie dough" is a warning plastered on the front of packages from the beloved cookie dough brand Nestle Toll House, but this phrase certainly does not deter most from indulging. Naysayers often caution against eating raw dough due to the risk of contracting salmonella, an infection transported through infected food or water which results in severe symptoms.  Recently, health care providers have shared their varying views on the consumption of raw eggs, an ingredient in cookie dough.
One primary care doctor, Dr. Adrianne Kassis, explained, "Only about 1 in every 20,000 eggs is contaminated, and that number decreases every year. Furthermore, if an egg is pasteurized, as they are in Nestle Toll House dough, the chance of getting salmonella decreases even more."
So what's all the hype about? With far less than a 1 percent chance of contracting salmonella, isn't the risk worth the reward? The truth is that if contracted, salmonella can be life-threatening.
According to Spoon University, "In 2009, a woman by the name of Linda Rivera died from E. Coli, a bacteria similar to salmonella. E. Coli can occur in a variety of foods, including the Nestle Toll House cookie dough that Rivera ate. Although she did not die immediately, doctors believe that the cause of her health problems and eventual death were due to the bacteria that was found in the cookie dough that she ate. Similarly, in the United States, approximately 42,000 cases of salmonella are reported each year, causing 400 deaths, however, not all of these cases involve raw eggs…"
Furthermore, not only is E. Coli found in raw eggs but, according to the FDA, E. Coli can also be contracted from consuming raw flour, another main ingredient in raw cookie dough. With these two facts in mind, the best choice is to stay away from raw cookie dough altogether.
Does this alarming information mean that you must avoid the tasty treat completely? Luckily, in the 21st century, the answer is no. Recently, brands such as The Cookie Dough Cafe, Edoughble, Batterlicious, JUST have released cookie dough that is entirely safe to eat raw. You can find many of these popular brands stocked on the shelves of your local grocery store's dairy section.
When asking students around the Pine Crest community about their thoughts on edible cookie dough, sophomore Ariella Bernick said, "Edible cookie dough is the best thing that ever happened to me."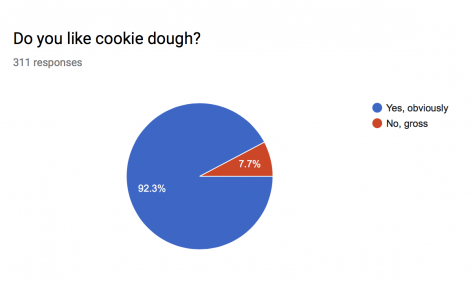 This strong statement suggests that this trendy food item must be given a try. One edible cookie dough franchise, Dō, is particularly popular.  It's a store in New York City dedicated to providing safe-to-eat cookie dough to customers in a trendy environment and it can be ordered online via Goldbelly. What could be better? With so many great edible cookie dough options, there is no reason to take the risk while eating cookie dough that is not meant to be consumed raw.
Sources: CNN, FDA, ABC News, Spoon University, My Modern Met, Very Best Baking, Goldbelly.
Photo Source: Nick Ares via Wikimedia Commons