I Scream, You Scream, We All Scream for (the) Ice Cream (Museum)
The Museum of Ice Cream in Miami has taken social media by storm. The pop-up museum opened in mid-December and is here until mid-February, so there is still a chance to go see it.  On her experience, senior Rachel Rader said, "The museum was very well thought out. I just wish they limited the amount of people that could come because you ended up waiting in lines for long periods of time and didn't get to enjoy it to its potential." Although she enjoyed her experience, there were definitely things that she wished they could have improved on. 
Though some have loved the attractions, others feel that the museum is overrated.  Alex Guckes, a junior, reflected on his experience, saying, "I thought it was overrated because I thought the experience would last longer. I was only there for 30 minutes, and I thought that the ice cream was sub par."
The most well-known attraction at the museum is the sprinkle pool, which is filled with 100 million plastic rainbow sprinkles.  This attraction is well known, mainly because of social media posts, such as pictures and videos in the sprinkle pool. However, Ms. Alexanderson, a psychology teacher, was hesitant to go after learning more about the pool. She said, "I was excited to go until I saw an article on Facebook about bacteria in the sprinkle pool, so I decided not to go."
This pool has posed a problem in the Miami area because it has become an environmental hazard to the surrounding community. The museum has been fined multiple times for the loose sprinkles across sidewalks and streets in the nearby area. In order to try and combat this problem, the museum has hired cleaning crews and put measures in place to reduce the sprinkles that leave the pool room. Senior student Rachel Rader explains her opinions on the pool, saying, "It's great that the city of Miami is suing the museum for the sprinkles from the sprinkle pool. It's detrimental to the health of our marine animals because when they see the sprinkles they think it's food, and the plastic can affect their well-being."
There is no clear answer as to whether or not the museum of ice cream is overrated or worth the visit, but many people definitely have strong opinions about it. The museum  has extended its stay time in Miami until February 26, so if you would like to check it out yourself take advantage of this opportunity. If you find yourself not wanting to make the trip all the way down to Miami, the bright and colorful pictures are all over Snapchat and Instagram.  To find out more about the museum and to purchase tickets visit the following website: https://www.museumoficecream.com/miami/.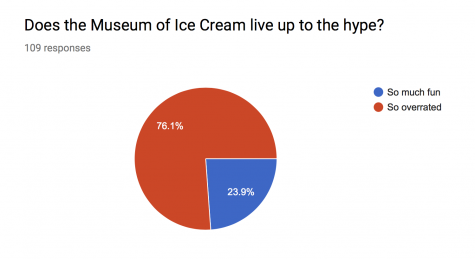 Schoology Poll by Julia Engelhardt
Sources: Miami, Sun-Sentinel, Curbed