Where Exactly Are the Miami Dolphins Heading?
The NFL season is well underway, and the Miami Dolphins have posted a solid 4-3 record thus far.
Despite their winning record, the Dolphins have had one of the worst offenses in the league, along with a depleted roster due to injuries. Their 40-0 embarrassment at the hands of the Ravens proved this point. However, the Dolphins are not far out of playoff contention. If the Dolphins can turn their offense around, we could certainly see them in the playoffs. If they do qualify for the playoffs, it will be their second straight season doing so, which is a remarkable accomplishment given their tough AFC East division.
Dolphins fans at Pine Crest are certainly excited to see what their team will be able to accomplish as the season progresses. Type One spoke with a few Pine Crest students who shared their thoughts on the Dolphin's season.
Senior Eli Lenner offered his opinion on how the Dolphins have fared. "We've been average," he admitted. "In the games we've won, we're played pretty poorly in the first half and were a better second half team. Also, all the games we've won have been within a touchdown, which is too close." Offensive production is clearly an area that needs improvement, especially with a backup quarterback at the helm of the team.  Averaging a league-worst 13.1 points per game, the Dolphins have been held scoreless in the first half of four of their games and have been shut out twice this season.
Lenner mentioned one of his favorite players. "I'm a Jarvis Landry fan," he said. "He has been underrated in the league and overshadowed by Odell Beckham Jr. since they were in the same draft class and both went to LSU. He is definitely one of the best receivers in the league."  Landry's athleticism has been one of the few visible bright spots in the offense this year.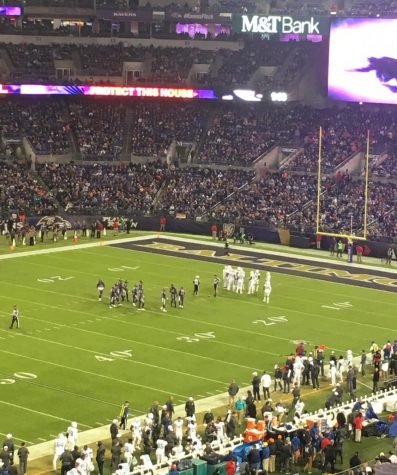 Type One also spoke with freshman Amogh Sriranga about the team. "They're doing pretty well considering they're on their third string quarterback," Sriranga pointed out. "It's great they have a winning record."  When starting quarterback Ryan Tannehill suffered a season-ending knee injury in training camp, the Dolphins opted to sign free agent Jay Cutler instead of starting veteran backup Matt Moore. Against the Jets, Jay Cutler took a big hit and suffered multiple cracked ribs.  In that game, Matt Moore came in, threw two touchdowns, and led the team to a comeback victory, beginning somewhat of a quarterback controversy.  However, this controversy was all but settled in Thursday night's game against the Ravens.  Passing for just 176 yards and throwing two interceptions, Moore was pretty rough in the 40-0 loss.
The Dolphins have still defied the odds this year. Not many expected them to have a winning record at this point, especially with all of their issues.  Even with issues at quarterback, some players have still shined.
Sriranga talked about some of the players who he thinks shine the brightest. "Kiko Alonso is great. He's a hard-working linebacker who was doubted but exceeded expectations," he said.  Though he has been playing well, Kiko Alsonso has been under fire as of late for what some perceived as a dirty hit against Joe Flacco.  During the Thursday night game, in an effort to prevent a first down, Alonso made impact with Joe Flacco's helmet, sending him to the locker room with a concussion.  Though Alsonso will likely be fined for the hit, some put the blame on Joe Flacco for sliding too late and on the NFL for not penalizing quarterbacks for late slides. 
A number of other defensive players have played well thus far, including Reshad Jones and Bobby McCain, who have both recorded interceptions.  Cameron Wake has had a solid start to the season as well, with six sacks through the first seven games.
Though the Dolphins' run game has not been great, averaging league-31st 76.4 rushing yards per game, Sriranga still has confidence in the Dolphins' workhorse, saying "Jay Ajayi is one of my favorite players. He just runs hard and works hard."
Thursday night aside, Sriranga looks forward to the rest of the Dolphin's season. "I want to see if they can overcome the quarterback drama, and if they can rise to the occasion and make the playoffs," he remarked.
Hopefully, the Dolphins are able to get it together, but it will take some hard work to get there.
The Dolphins are set to play the Raiders on Sunday, November 5 at 8:30 PM, looking to improve to 5-3 and continue their march towards the playoffs.
Sources: NFL, The Phinsider, Sun Sentinel, Washington Post, Yahoo Sports, Miami Dolphins
Photo Source: Tech. Sgt. Aaron Oelrich via DVIDS