Katie Bodner, Hertz Foundation Fellowship Award Winner
[ot-caption title="Katie Bodner currently attends Stanford University where she is continuing her research in biology as a Hertz Foundation Fellowship Award Winner. (via The quad and the tower by Pere Joan/Wikipedia/CC BY 3.0)"]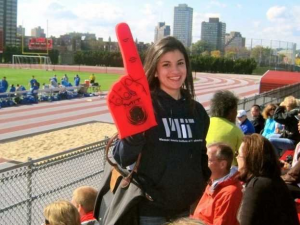 Katie Bodner attended Pine Crest School from first to twelfth grade and graduated with the Class of 2011. After graduating from Pine Crest, she attended the Massachusetts Institute of Technology where she became the co-founder of the first biotechnology student initiative at MIT. Bodner also earned a gold medal, from a synthetic biology competition, for the iGEM team at MIT through her studies of DNA and how it can be incorporated with mammalian cells. Bodner was one of twelve winners of the Hertz Foundation Fellowship award. Most of Bodner's research focuses on synthetic biology and how it can be used for cancer diagnostics, muscular dystrophy, vaccination for HIV, and the making of pharmaceuticals. Through her studies, Bodner was able to produce a RNA platform that can be used for an HIV vaccination or as a way to heal muscular dystrophy. Bodner also won the U.S. Biologics Technical Developing Outstanding Student Award. I interviewed Bodner on her experience with biology and how attending Pine Crest helped her to achieve her goals.
When did you decide that you would like to research synthetic biology, and do you have any advice that you would like to give to students who also would like to pursue research or careers in biology?
"My favorite class at Pine Crest was Chemistry Honors with Mr. Pierson. I attended the Women's Technology Program at MIT, a program for rising high school senior girls, where I learned about engineering, discrete math and computer science for the first time. I fell in love with both engineering and MIT and decided to attend for chemical engineering. Then, in my freshman year, I took an introductory biology course that opened up my eyes to current research topics in biology, such as synthetic biology. I joined MIT's iGEM (international Genetically Engineered Machines) team, an international undergraduate research competition, my freshman year, where I worked with a group of 10 other students to achieve the following goal: How can we program a cell to recognize if another cell is cancerous or not, and if it is, then kill the cell? We used a method of computing called DNA strand displacement, where strands of DNA interact through logic gates like those in electronics. We developed a way to recognize a set of biomarkers only specific to the cancer cells and trigger death if the cells were indeed cancerous. From there on I got hooked on research, and I spent the next three years at MIT on an independent project trying to create a "programmable" RNA-based vaccine for HIV. The vaccine could deliver many different variants of the virus at once, which is important in the case of HIV, since there are many different strains, and it is difficult for a traditional vaccine to protect against multiple strains at once. The vaccine would also allow patients in remote regions affected by HIV such as in Africa to receive only one immunization instead of multiple rounds, increasing the accessibility of the vaccine. The most important piece of advice I would give students who would like to pursue research or careers in biology is to first get hands-on lab experience. Furthermore, biological research is becoming increasingly quantitative. Therefore, I would keep an open mind to type of research career that you may end up choosing. I did not go into college knowing that I wanted to get a Ph.D. or pursue research. I discovered in my first research experience that there is nothing more exciting than being the first person in the world to see the result you are seeing when you do an experiment. Pine Crest has an amazing Science Research program that is a great place to start getting involved with biology research."
Do you feel that Pine Crest helped prepare you well for college and has helped you to achieve your goals?
"Pine Crest definitely helped prepare me well for college by giving me a well-rounded education. From 1st grade through 12th grade, I was able to equally develop a curiosity for writing and the arts as I did for the sciences through hands-on coursework, projects, the science and math teams and the ballet department. A lot of the material in the introductory coursework at MIT, I had seen in my classes at Pine Crest, which was a big help in transitioning to college. Pine Crest also helped me in terms of being able to balance my time between a demanding course load and doing a variety of extracurriculars. I was involved with the dance department at Pine Crest, and the training and discipline I got through the ballet program helped me tremendously with managing stress. I also find that the training that I got in writing at Pine Crest, through the English Department as well as through Type One newspaper, has helped me with all sorts of writing that I have gotten to do in college – for coursework, research, graduate school applications, fellowship applications, etc."
Now, Bodner is a PhD student at Stanford University where she is studying biological engineering and how systems biology can be used for improving the development of drugs with her Hertz Foundation Fellowship award. When asked what she would like to do in future in the field of biology, Bodner said "I am interested in studying how the immune cells in our body interact with our microbiome – the collection of bacteria and viruses inside our gut. It is incredibly intriguing that 90% of the cells in our body are bacterial cells and only 10% are human cells. These bacteria have been implicated in many problems, including allergies, obesity and causing inflammation, which can lead to cancer. What if we could figure out how to engineer the bacteria to eliminate these problems? In the future, I would like to become a professor at a university to run my own research lab discovering new design principles for engineering biological systems to overcome disease." Through her work and studies in the field of biology, Bodner could be able to help many people around the world overcome diseases because of her discoveries of new ways to use biological engineering systems. This would be very important for many people because it would give them more access to vaccinations that they need. For example, in the remote areas of Africa, people would be able to access vaccinations more easily, which could decrease the amount of disease in those areas. Therefore, through Bodner's research, she could end up saving people from getting diseases and as a result, save many people's lives.
Sources: HertzFoundation.org
Photo Source: Pere Joan