PC Alum Tsianos's Ice Water Fire Project
[ot-caption title="Climbing Mount Everest in Nepal is only one of the challenges needed to overcome  to finish the Ice Water Fire Project. (via, Wikimedia/Papa Lima Whiskey2/CC BY SA 2.0)"]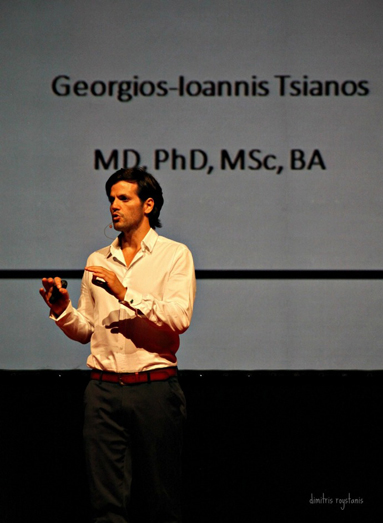 To complete the Ice Water Fire Project, you must complete three very challenging sporting events: climbing Mount Everest, swimming the English Channel, and completing the Marathon des Sables. This project was successfully completed by a Pine Crest Alum, Dr. Georgios-Ioannis Tsianos (Class of '94). In April of 2015, Dr. Georgios-Ioannis Tsianos became the first person e to accomplish all three of these challenges making him the first person to ever complete the Ice Water Fire Project. While accomplishing this incredible feat, Dr. Georgios-Ioannis Tsianos also helped the Opwall Trust, a charity trying to conserve biodiversity. In an email interview with Tsianos, I asked him a few questions about the Ice Water Fire Project and his experience at Pine Crest School.
Why did you decide to start the Ice Water Fire Project?
"As a matter of fact I didn't decide, consciously at least, to start this project! The project evolved on its own, so to speak, many years ago, and as if by magic, as a direct consequence to the life path I have chosen, it all came together and made sense inside my head. The Ice Water Fire project started with the English Channel swim in 2000, followed by the Mount Everest climb in 2004 and finally completed this year with the Sahara Desert run. The project turned out to be a noble challenge in the making. It allowed me to combine research and medicine, sport and adventure, and of course develop respect and gratitude for nature. Now, along the way to becoming a medical doctor and an extreme environment physiologist, I found myself spending a significant amount of time within a variety of nature's environments, or the extremes of them to be exact, studying and researching them as well as observing and trying to understand human abilities and adaptations, physical and psychological, in order to survive when exposed to them. The times spent within nature involved diverse roles such as the ones of a scientist or a doctor on all sorts of expeditions, a participant during extreme athletic challenges or even just as an individual simply being and living in the diverse environmental conditions that exist on earth. It is was a multi-dimensional project for a pure and simple idea; man within nature. There is more challenge in trying to understand and protect nature, than in trying to conquer it."
Was there ever a time when you thought about giving up on your goal of being the first person to achieve all three very challenging sport events in the Ice Water Fire Project? If so, how did you motivate yourself to continue? 
"During each of these challenges, as well as in others which were not however part of the Ice Water Fire project, and solely speaking on the physical and psychological elements around them in my pursuit to safely complete them, the honest truth is, yes; I was pragmatic in that the possibility of not completing a challenge was real. At times I found myself walking a very thin line between giving it 'all you have no matter what' in order to achieve the goal, or simply giving up, the implications of either decision very much directly analogous to what is at stake each time. For example, on Everest, if you give it all you have in order to reach the summit, well, you haven't really achieved your goal, whatever that goal may be in order to willingly put yourself under such extreme physical and psychological hardships; a successful undertaking however, will only come if you can make it back, alive. Therefore, each time I have to take under serious consideration, apart from all the wonderful things I am trying to learn by attempting all these, the reasons as to why I am willing to sacrifice the things I do in hope to see those desires and dreams come to their fruition. The more difficult the pursuit, the more humble and respectful you become towards it. At the end of the day, my motivation is in trying and seeing things through to their completion; I will not deny however that having the cherry on the cake feels nice, but if it doesn't happen, and I have many stories about that, it's ok, at least I tried. For me, a strong will power is what gets me motivated."
Can you think of a way in which attending Pine Crest School has helped you to achieve your goals or has benefitted you in some way? 
"I consider my time at Pine Crest School to have contributed a great deal in consolidating the ethics and values I was raised with, while in addition, to have been a boarding student at Pine Crest, taught me at an earlier age to be independent enough but with invaluable guidance as well as optimal support and mentorship during times of need from the teachers and all the rest of the school's members of staff. With regards to the high standards of education one is exposed to at Pine Crest, to this day I believe that it paved the road for my future intentions to maintain them as high as possible. Reminiscing my serious involvement with the swim team at Pine Crest, the ethos of loyalty to your team members as well as the daily application of the dedication and sacrifices required in order to succeed, are values I hold dear to my heart and under no circumstances will I ever lose sight of them. Finally, in one of my diverse professional roles, the one of the public speaker in this case, I would be delighted if one day I found myself again in those same school grounds only now to pass on some of my life experiences to others the same way others passed them on to me when I too, was a Panther! Thanks for the memories."
Dr. Georgios-Iaonnis Tsianos was born in Athens, Greece and attended Pine Crest as a freshman in high school as a boarding student, and he graduated with the class of 1994. After graduating from Pine Crest, Tsianos attended the University of California at Berkeley where he received his Bachelor's degree. He received his Master's degree from King's College in London and his doctorate degree from the University of Glasgow. Following his doctorate degree, he  attended the University of Ioannina in Greece to study medicine. Now, Tsianos works as a medical doctor based in the United Kingdom, where he also participates in sporting challenges, such as the Ice Water Fire Project.
Sources: icewaterfire.com  Photo: Papa Lima Whiskey 2